Home - About Uganda - Tourism - Business - Pakistan-Uganda Friendship - Contact Us - Visa Services
About Uganda - The Pearl of Africa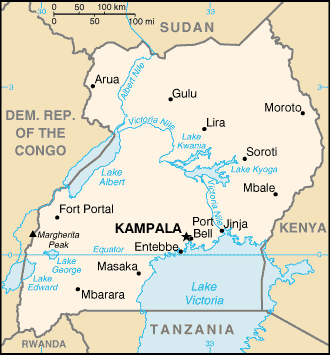 "The scenery is different, the vegetation is different, the climate is different, and, most of all, the people are different from anything elsewhere ... in the whole range of Africa" - Sir Winston Churchill
Uganda is saturated in colour, the outstanding natural beauty of its people and its landscapes have always stirred inspiration in travellers and residents. Parts of Uganda have changed very little in the last hundred years; the period of turmoil between 1967 and 1986 virtually ground all industrial and economic progress to a halt. This was an era when other countries in Africa were enjoying the fruits of international aid and their economies expanded as fast as their populations.
Uganda has only just started to receive positive international attention and it has been slow and cautious in coming. The increasing confidence with which donor countries treat Uganda is a direct result of its current leadership, which has been so responsive in progressive policy making.
There has been much to learn, for both the donors and the public and private communities in Uganda, from the results around the rest of the continent. Lessons have been learnt. The result has been fast and real progress has been made. In some cases, Uganda has started to set trends for other countries to follow, financial Policies have got to grips with wildfire inflation and currency fluctuations. The government is allowing free expression and, through this, is unifying the Ugandan peoples. Matters of constitution and restitution are a priority, which is creating a very positive forum for peace and stability.
Agriculture, the traditional backbone of Uganda's economy (employs about 80% of the active population), contributes to debt service. The massive sugar and textile industries of the 1960s are reviving, along with the large tea estates long neglected. The government controls on the coffee and cotton industry have been loosened to allow the farmer a larger market in which to sell his produce, and private exporters have been granted licences. Horticulture and floriculture are receiving increased investment as air-cargo becomes a viable means of' transport.
The government has facilitated foreign investment with attractive incentives and streamlined import and export procedures. Many expelled Asians have returned to reclaim their properties and are reinvesting in a growing economy. Tourism, the most sensitive of all industries to develop, is finally attracting investment and interest. Significant progress has been made in the redevelopment of infrastructure in the National Parks. The devastation of the animal populations that took place during the war years is beginning to be repaired through increased control and management. New areas of interest such as mountain gorillas and ecotourism, white water rafting and sport fishing have put Uganda back on the East African tourist circuit.
The Nile, a source of wonder and inspiration for thousands of years, cuts a verdant and often turbulent median south to north through the country. The Nile flows from Lake Victoria at what was Rippon Falls and into Lake Kyoga. Still the Victoria Nile, it cuts a raucous passage west across Karuma Falls and through the narrow pillars of Murchison Falls towards Lake Albert. Finally the Albert Nile meanders along a slow, wide corridor into Southern Sudan. To the far west of Uganda, on the Zaire border, the snow covered Rwenzori Mountains (or Mountains of the Moon as Ptolemy called them) rise into almost permanent equatorial mists. The mountain slopes have their own strange successive worlds of vegetation, each with its own characteristic flora. In the extreme south-west are the Mufumbiro volcanoes, a chain of imposing cones that rise out of the lava plain f the western rift. The tropical hardwood rainforests of Western Uganda such as Maramagambo, Budongo and Bwindi evoke adventure and wonder.
Kampala, the modern capital, is the centre of most economic activity. It is steadily being rebuilt after systematic looting and destruction during the changes of government. The city infrastructure has been restored and new office towers, hotels, stadiums and shopping malls are appearing almost monthly. Entebbe, the former administrative capital, is still very picturesque, though rundown and neglected. The century old botanical gardens are being restored to their former splendour. The presence of the international airport at Entebbe will ensure its continued restoration.
Of the other towns around the country, Jinja, at the source of the Nile, Mbarara, on the road west, Fort Portal, at the foot of the Rwenzoris, and Mbale on the eastern border are all howling promising signs of economic recovery. The apparent slow development and poverty of areas outside Kampala is combined result of cautious investment and the relatively recent restoration of countrywide infrastructure. Tourism and increased commercial agriculture will gradually redress the balance, as they have elsewhere in Africa.
Uganda is rich with culture and artistic talent, Ugandans are lively actors and public speakers. Hardly a night passes without the rhythmic sounds of traditional dancing or, in Kampala, modern disco music. The overriding impression of Uganda is of its happy people. Hardship and war are not forgotten, but they are in the past, to be recalled in silent prayers and thoughts for absent friends.
Source: Visit Uganda - About Uganda (http://www.visituganda.com/uganda/country.htm)
Key Facts
General
Background: Uganda achieved independence from the UK in 1962. The dictatorial regime of Idi AMIN (1971-79) was responsible for the deaths of some 300,000 opponents; guerrilla war and human rights abuses under Milton OBOTE (1980-85) claimed at least another 100,000 lives. During the 1990s, the government promulgated non-party presidential and legislative elections.
Location: Eastern Africa, west of Kenya
Geographic coordinates: 1 00 N, 32 00 E
Area: total: 236,040 sq km / water: 36,330 sq km / land: 199,710 sq km
Land boundaries: total: 2,698 km / border countries: Democratic Republic of the Congo 765 km, Kenya 933 km, Rwanda 169 km, Sudan 435 km, Tanzania 396 km
Coastline: 0 km (landlocked)
Climate: tropical; generally rainy with two dry seasons (December to February, June to August); semiarid in northeast
Terrain: mostly plateau with rim of mountains
Elevation extremes: lowest point: Lake Albert 621 m / highest point: Margherita Peak on Mount Stanley 5,110 m
Natural resources: copper, cobalt, hydropower, limestone, salt, arable land
Land use: arable land: 25.34% / permanent crops: 8.77% / other: 65.89% (1998 est.)
Irrigated land: 90 sq km (1998 est.)
Environment - current issues: draining of wetlands for agricultural use; deforestation; overgrazing; soil erosion; water hyacinth infestation in Lake Victoria; poaching is widespread / international agreements: party to: Biodiversity, Climate Change, Desertification, Endangered Species, Hazardous Wastes, Law of the Sea, Marine Life Conservation, Nuclear Test Ban, Ozone Layer Protection, Wetlands / signed, but not ratified: Environmental Modification
Geography - note: landlocked; fertile, well-watered country with many lakes and rivers
People
Population: 25,632,794
Age structure: 0-14 years: 50.8% (male 6,528,724; female 6,486,736) / 15-64 years: 46.8% (male 5,985,911; female 6,024,798) / 65 years and over: 2.4% (male 266,930; female 339,695) (2003 est.)
Median age: total: 14.7 years / female: 14.8 years (2002) / male: 14.6 years
Population growth rate: 2.96% (2003 est.)
Birth rate: 46.57 births/1,000 population (2003 est.)
Death rate: 16.95 deaths/1,000 population (2003 est.)
Sex ratio: at birth: 1.03 male(s)/female / under 15 years: 1.01 male(s)/female / 15-64 years: 0.99 male(s)/female / 65 years and over: 0.79 male(s)/female / total population: 0.99 male(s)/female (2003 est.)
Infant mortality rate: total: 87.9 deaths/1,000 live births / female: 80.17 deaths/1,000 live births (2003 est.) / male: 95.41 deaths/1,000 live births
Life expectancy at birth: total population: 44.88 years / male: 43.42 years / female: 46.38 years (2003 est.)
Total fertility rate: 6.72 children born/woman (2003 est.)
HIV/AIDS - adult prevalence rate: 5% (2001 est.) / people living with HIV/AIDS: 600,000 (2001 est.) / deaths: 84,000 (2001 est.)
Nationality: noun: Ugandan(s) / adjective: Ugandan
Ethnic groups: Baganda 17%, Ankole 8%, Basoga 8%, Iteso 8%, Bakiga 7%, Langi 6%, Rwanda 6%, Bagisu 5%, Acholi 4%, Lugbara 4%, Batoro 3%, Bunyoro 3%, Alur 2%, Bagwere 2%, Bakonjo 2%, Jopodhola 2%, Karamojong 2%, Rundi 2%, non-African (European, Asian, Arab) 1%, other 8%
Religions: Roman Catholic 33%, Protestant 33%, Muslim 16%, indigenous beliefs 18%
Languages: English (official national language, taught in grade schools, used in courts of law and by most newspapers and some radio broadcasts), Ganda or Luganda (most widely used of the Niger-Congo languages, preferred for native language publications in the capital and may be taught in school), other Niger-Congo languages, Nilo-Saharan languages, Swahili, Arabic
Literacy: definition: age 15 and over can read and write / total population: 69.9% / male: 79.5% / female: 60.4% (2003 est.)
Government
Country name: conventional long form: Republic of Uganda / conventional short form: Uganda
Government type: republic
Capital: Kampala
Administrative divisions: 56 districts; Adjumani, Apac, Arua, Bugiri, Bundibugyo, Bushenyi, Busia, Gulu, Hoima, Iganga, Jinja, Kabale, Kabarole, Kaberamaido, Kalangala, Kampala, Kamuli, Kamwenge, Kanungu, Kapchorwa, Kasese, Katakwi, Kayunga, Kibale, Kiboga, Kisoro, Kitgum, Kotido, Kumi, Kyenjojo, Lira, Luwero, Masaka, Masindi, Mayuge, Mbale, Mbarara, Moroto, Moyo, Mpigi, Mubende, Mukono, Nakapiripirit, Nakasongola, Nebbi, Ntungamo, Pader, Pallisa, Rakai, Rukungiri, Sembabule, Sironko, Soroti, Tororo, Wakiso, Yumbe
Independence: 9 October 1962 (from UK)
National holiday: Independence Day, 9 October (1962)
Constitution: 8 October 1995; adopted by the interim, 284-member Constituent Assembly, charged with debating the draft constitution that had been proposed in May 1993; the Constituent Assembly was dissolved upon the promulgation of the constitution in October 1995
Legal system: in 1995, the government restored the legal system to one based on English common law and customary law; accepts compulsory ICJ jurisdiction, with reservations
Suffrage: 18 years of age; universal
Executive branch: chief of state: President Lt. Gen. Yoweri Kaguta MUSEVENI (since seizing power 26 January 1986); note - the president is both chief of state and head of government / head of government: President Lt. Gen. Yoweri Kaguta MUSEVENI (since seizing power 29 January 1986); Prime Minister Apollo NSIBAMBI (since 5 April 1999); note - the president is both chief of state and head of government; the prime minister assists the president in the supervision of the cabinet / cabinet: Cabinet appointed by the president from among elected legislators / elections: president reelected by popular vote for a five-year term; election last held 12 March 2001 (next to be held NA 2006); note - first popular election for president since independence in 1962 was held in 1996; prime minister appointed by the president / election results: Lt. Gen. Yoweri Kaguta MUSEVENI elected president; percent of vote - Lt. Gen. Yoweri Kaguta MUSEVENI 69.3%, Kizza BESIGYE 27.8%
Legislative branch: unicameral National Assembly (303 members - 214 directly elected by popular vote, 81 nominated by legally established special interest groups [women 56, army 10, disabled 5, youth 5, labor 5], 8 ex officio members; members serve five-year terms) / elections: last held 26 June 2001 (next to be held May or June 2006) / election results: percent of vote by party - NA%; seats by party - NA; note - election campaigning by party was not permitted
Judicial branch: Court of Appeal (judges are appointed by the president and approved by the legislature); High Court (judges are appointed by the president)
Political parties and leaders: only one political organization, the Movement (formerly the NRM)[President MUSEVENI, chairman] is allowed to operate unfettered; note - the president maintains that the Movement is not a political party, but a mass organization, which claims the loyalty of all Ugandans / note: the constitution requires the suspension of political parties while the Movement organization is in governance; of the political parties that exist but are prohibited from sponsoring candidates, the most important are the Ugandan People's Congress or UPC [Milton OBOTE]; Democratic Party or DP [Paul SSEMOGERERE]; Conservative Party or CP [Ken LUKYAMUZI]; Justice Forum [Muhammad Kibirige MAYANJA]; and National Democrats Forum [Chapaa KARUHANGA]
International organization participation: ACP, AfDB, C, EADB, ECA, FAO, G-77, IAEA, IBRD, ICAO, ICCt, ICFTU, ICRM, IDA, IDB, IFAD, IFC, IFRCS, IGAD, ILO, IMF, Interpol, IOC, IOM, ITU, NAM, OAU, OIC, OPCW, PCA, UN, UNCTAD, UNESCO, UNHCR, UNIDO, UPU, WCO, WFTU, WHO, WIPO, WMO, WToO, WTrO
Communications
Telephones - main lines in use: 50,074; however, 80,868 main lines have been installed (1998)
Telephones - mobile cellular: 9,000 (1998)
Telephone system: general assessment: seriously inadequate; two cellular systems have been introduced, but a sharp increase in the number of main lines is essential; e-mail and Internet services are available / domestic: intercity traffic by wire, microwave radio relay, and radiotelephone communication stations, fixed and mobile cellular systems for short-range traffic / international: satellite earth stations - 1 Intelsat (Atlantic Ocean) and 1 Inmarsat; analog links to Kenya and Tanzania
Radio broadcast stations: AM 7, FM 33, shortwave 2 (2001)
Television broadcast stations: 8 (plus one low-power repeater) (2001)
Internet country code: .ug
Internet Service Providers (ISPs): 2 (2000)
Internet users: 60,000 (2002)
Transportation
Railways: total: 1,241 km / narrow gauge: 1,241 km 1.000-m gauge (2002)
Highways: total: 27,000 km / paved: 1,809 km / unpaved: 25,191 km (1999 est.)
Waterways: Lake Victoria, Lake Albert, Lake Kyoga, Lake George, Lake Edward, Victoria Nile, Albert Nile
Ports and harbors: Entebbe, Jinja, Port Bell
Merchant marine: total: 3 ships (1,000 GRT or over) 5,091 GRT/8,229 DWT
ships by type: roll on/roll off 3 / note: these ships are in cargo and passenger (ferry) service on Uganda's inland waterways (2002 est.)
Airports: 27 (2002) / with paved runways: total: 4 / over 3,047 m: 3 / 1,524 to 2,437 m: 1 (2002) / with unpaved runways: total: 23 / 2,438 to 3,047 m: 1 / 1,524 to 2,437 m: 6 / 914 to 1,523 m: 9 / under 914 m: 7 (2002)
Military
Military branches: Ugandan Peoples' Defense Force (including Army, Marine unit, Air Wing)
Military manpower - availability: males age 15-49: 5,476,612 (2003 est.) / fit for military service: males age 15-49: 2,974,259 (2003 est.)
Military expenditures - dollar figure: $124.7 million (FY02)
Military expenditures - percent of GDP: 2.1% (FY02)
Transnational Issues
Disputes - international: Tutsi, Hutu, and other ethnic groups, associated political rebels, armed gangs, and various government forces continue fighting in the Great Lakes region, transcending the boundaries of Burundi, Democratic Republic of the Congo, Rwanda, and Uganda to gain control over populated areas and natural resources; government heads pledge to end conflict, but localized violence continues despite UN peacekeeping efforts; conflict in Sudan has extended rebel forces and refugees into Uganda.
Source: CIA - The World Factbook (http://www.cia.gov/cia/publications/factbook/geos/ug.html)